What is SOPA?
I wanted to get this up Tuesday night, since Wednesday was the day everyone was protesting, but as usual, I'm late to the party. Things just weren't working in my favor yesterday, mainly the hands on the clock. But this is important information to have, so here you go!
Have you heard of SOPA? If you're a blogger, techie, or communications person, you probably have, and you're probably not happy. Basically, the Stop Online Piracy Act is "a pending bill geared toward preempting U.S. property theft by promoting creativity and innovation (techopedia) ." While putting an end to online piracy is good, the bill leaves a lot of room for interpretation, which could open the door for a lot of online censorship, causing a lot of sites, particularly social media and sharing sites, to more heavily police their content. Sites like YouTube and Reddit would definitely suffer, if not shut down completely.
What can I do?
First and foremost, educate yourself on the issue. You can then contact your congressman and urge them to vote against SOPA by either calling or sending them an email. You can also send a prepared message through americancensorship.org. Don't let the government censor the internet!
Okay, on to more cheerful topics.
Saturday we went to the Shriner's Circus. I have no idea who the Shriners are, but they wear funny hats and put on a show that's great for the kiddos. I hadn't been to the circus since I was a kid myself, and my friend Heidi (more about her in a little bit) got us some killer seats to the show. R&C knew what a circus was, so they were pretty excited to see clowns, elephants, and of course cows. Aren't there cows at the circus?
We ended up having to split at intermission. Claire was getting a little nervous that the lights went out and never came back on, and she kept asking to go home. Christian took her out of the main arena, causing pure pandemonium from Zoe, and Rachel was quickly starting to lose it. It was close to lunch, so we called it a day. I sometimes have to remind myself that we'll have plenty more years to enjoy things like this — where they'll hopefully last more than halfway through.
And when I asked them what they're favorite part was? "Kai- Lan!" Of course. Because who doesn't come to the circus to get a blow up Kai-Lan toy. That deflates before you even get home.
I'm gainfully employed! Since the beginning of the year (you know, like less than three weeks ago), I've been helping my friend Heidi with her website Free Fun in Austin. If you live in or around Austin, you know this site and you know it well. What started out as a way for her to keep herself accountable for getting out of the house with her four kids has now turned into the go to source for family activities around town. And now she's all big time, speaking at a conference, and she was on the news. Twice. She's a rockstar.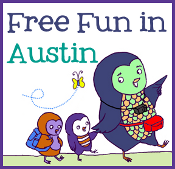 So while she concentrates on the businessy end of things, I'm doing my best to help her out and take a little of the every day posting off of her shoulders. It's a perfect fit for me: posting on a blog platform that I'm familiar with, working at home, with a super cool boss lady. If I miss a beat here and there on my blog, then that's why. Because I spend the entire day making meals, pushing swings, wrangling kids, and being a parent and all, I only have between the hours of 7:30ish and whenever I start to fall asleep at my desk to do
anything,
so some things have to give. But I'm thrilled to have the chance to help her out and make a little money doing something I love.
So now that we're all caught up, what's going on in your life?