Hair is a defining characteristic for most people, and for R&C it's been no different. They have some of the most gorgeous brown locks that fall in near perfect ringlet curls down their back. Really, really long ringlet curls that they sleep on so in the morning they're less bouncy ringlets and more frizzy mess.
It hung in an uneven, helter skelter mane, with some locks reaching down farther than others like the rat tails of the 80s. Every night after bath time I would accost them with the detangler and the soft bristled brush and it would take forever to get the knots out, especially from Claire's because she twirls her hair when she sucks her thumb in bed. We're all about good habits over here.
So Saturday I made en executive decision to take them for their first haircut. But first, lets go through a little hair history.
Here at 6 months, not much to report. Just fuzz that I still tried to comb into a side part.
At a little over a year, the hair is filling in nicely, although Rachel has a hard time keeping hers in line. And look how fat they are! I can say fat because they're babies and haven't reached the age of negative self esteem and girl power and such.
Springy pigtails were my favorite stage at about 18 months. They didn't need to keep the hair out of their face just yet, but it was just so cute I couldn't resist. I am in danger of becoming a stage mom. Or at least a pigtail mom.
At age 2, Claire wakes up with perfect hair just about every day, while Rachel's is quickly turning into a giant, inexplicable fro.
The fantastic ringlets start to emerge at about 2.5. This was my very favorite hair stage. Pigtails were still cute, it wasn't too in their faces, and it didn't take a year to brush. This is what the experts call "ideal."
And then before I knew it, in a flash of growth that took place over a year and a half from that last picture but seemed like I just blinked, we were here. Almost 4, with the longest, most uneven and unkempt mess of curls you've ever seen. It was almost always in a ponytail or put back in some form or fashion so they could, you know, see. These girls don't do barrettes.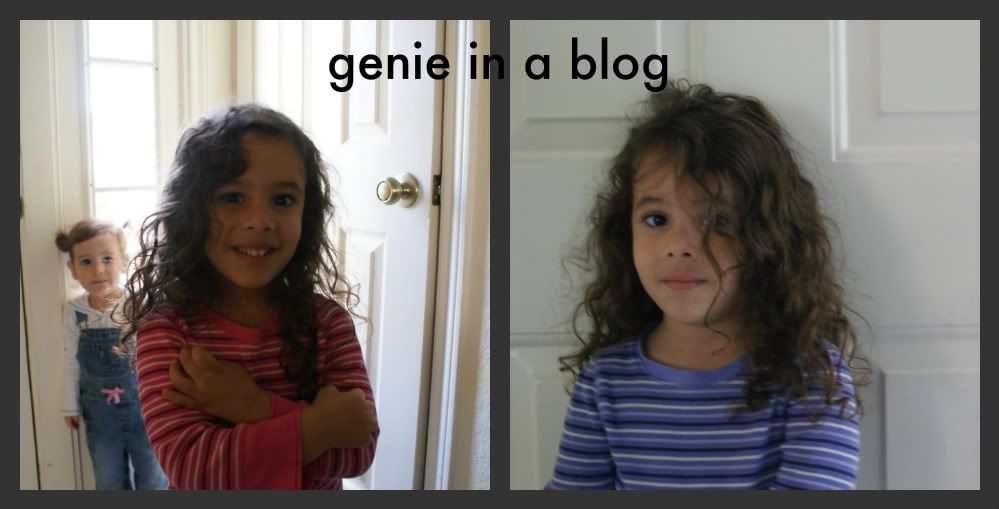 So I dragged them to the nearest kids' haircutting place where I proceeded to annoy the hell out of the stylist with my obsessive photo taking and my miscommunication about how much I wanted cut off, probably due to the obsessive photo taking. And the girls? Well, they proceeded to just watch Mulan. Because today's hair cutting places are geniuses.
I know, I know. You can barely tell that they got a haircut. Christian was disappointed, to which I responded, "Well then why don't YOU just take them next time so I can stay home and take a nap with the baby (who's really not a baby anymore, but we just can't seem to stop calling her that)?
But seriously, I can tell. Mainly when I'm brushing it and I don't feel like I need a drink afterwards. I brushed it this evening after baths and it was glorious. Glorious, I tell you!